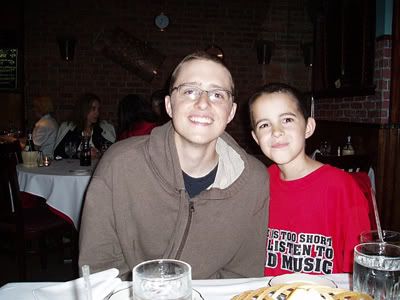 Our very dear friend Justin gained his angel wings at 5pm today, at his home in Indiana. Justin was 17 years old, he had been fighting Neuroblastoma since he was 13. Justin dreamed of flying planes, and he was fortunate to fly on a few occasions this year. Justin also loved to write poetry and stories. Please pray for his family at this time, especially his sister Alecia who was very close to him and his best friend Ryan. We have many fond memories with you Justin...Myth Busters, James Bond, eating at the Australian restaurant, walking around little Italy, Sum 41 and of course Snails on Turtles baby!!! Our hearts are broken once again on this journey of the NB fight. For those who knew Justin and want to send a card to the family,
here is the address:


Stegemann Family
6855 Princess lane
Avon IN 46123

Justin's best friend Ryan, left this beautiful message on Justin's myspace tonight, I wanted to share it:

Justin it is weird to think that you will never see this. Today was really hard... For some reason, I knew something was going to happen before I ever got the call. I am going to miss you and I'll think about you everyday. I have been living this week in the memories that I have of you. This summer was a blast, it will stay with me for the rest of my life. The walks by the East River, the late night subway rides to Time Square.... it all seems so surreal now. When I went to New York and Indiana, it was the last time we were able to be kids again. I know the last four years have been hard on you, but you never really let it get to you. I remember the first time that I went to New York in 8th grade, you would get treatment and then be the first person out of the door and ready to go explore the city. I remember when we would ride our bikes all over the neighborhood chasing girls all through elementary school. I remember the first time we got in trouble together and tried to get out of it............

You have changed my life. I wish I had half of the courage and perseverance as you have. We take so much for granted and expect perfection from life. You have made me realize that you can only take life day by day and live to the fullest because you never know when that day will be your last. This past summer will stay with me for the rest of my life. You were healthy, proving the odds wrong and we were able to be kids again. I love you and I am going to miss you more than you will ever know.

There are so many memories between us. I hope they will stay with me forever, so that I will always have a part of you with me for my journey through life.

We will meet again, someday.