Dylan is doing great. He has been busy with teachers in the afternoons and getting involved with the RMDH activities in the evenings as well as playing with friends. On Tuesday we went to clinic and signed the consent forms for the 3F8 therapy Protocol: 05-015A. We also picked up the medications required and had a CBC blood test that surprisingly revealed that Dylan's counts were ok and no transfusions were needed. Dr Kushner explained that the team was to meet that afternoon to confirm Dylan's commencement on the study next Monday and that he would call me if there were any changes, but he was 95% sure he would start on the 26th. Well the next morning I got a call that the team had decided to postpone the therapy for another week due to his HAMA result. Even though Dylan is HAMA negative, he is very close to being positive. I think the cut off is 1000 or below to be a negative result and Dylan is 956. The team feels that Dylan being so close to a positive result would mean an almost immediate HAMA and that would mean the therapy being pointless. So the plan is to wait…yes…you heard correctly. So next Monday another HAMA test will be taken to see if it has lowered at all. I have a feeling that this week of postponing may turn into a month of postponing. But we have the time, Dylan is stable and not progressing and well once you have been away from home for over 2 years…what's another month or more. The waiting factor is not worrying me, I think it would be better for Dylan to be in a position where there is more chance of the therapies success rather than diving in head first when the pool is not full yet…or so to speak. It is possible that the team may decide to get another cycle of Accutane in while we wait to commence the 3F8 study.

The test results from the scans etc came back as stable. The CT scan says there is no evidence in the brain, chest, liver, spleen, pancreas, gallbladder or kidneys. Multiple bony lesions are again identified but no new lesions are seen since the last scan. The MIBG scan – Findings: Persistent, essentially unchanged abnormal radiotracer activity are visualized in the skull, left posterior upper chest, right anterior rib, multiple thoracic and lumbar vertebrae, bony pelvis and femora. Impression: Widespread stable MIBG avid disease, no definite new abnormal uptake identified since January 25, 2007. Bone marrow results say Left posterior – We see no evidence of Neuroblastoma. Right posterior – Metastatic Neuroblastoma with Ganglioneuromatous differentiation. The good result was the Urine markers. Dylan's HVA is 30 and VMA 23. This is a decrease, January's results were HVA 38 and VMA 34. In fact this VMA reading is the lowest he has had since diagnosis, but still not in normal range which is below 8. HVA and VMA indicate tumor activity when it involves Neuroblastoma. A sudden jump in HVA or VMA levels would suggest increase in disease, so I am always relieved to get a result that is similar or lower than the previous test.

OK, now that the medical stuff is out of the way, lets talk about the good and fun stuff. Well Dylan and the rest of the RMDH kids got to meet 2 players from the famous New York Knicks Basketball team, Channing Frye and Eddy Curry. They even autographed a basketball for Dylan!

Today after Dylan finished with his teacher he was able to team up with Australian artist Ron Steven (Rogest) Ron does "dot" paintings inspired by Australian Aborigines. Dylan had a great chat with Ron and Ron signed one of his prints for Dylan as well as assisted Dylan in some fantastic artwork. Ron's work can be found HERE

Dylan also got a wonderful surprise from Norridgework Central Grade School in Maine who sent him this beautiful quilt that they made as well as lovely cards and letters from the students. Thank you so much for this brilliant gift.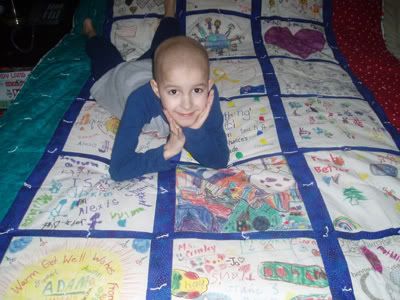 More recent photos of this weeks camera snaps can been seen HERE

New York is certainly the place for the stars! This week Brooke Shields was filming on our street for a new sitcom called "Lipstick Jungle" and today Matt Damon was filming the new Bourne movie part 3 (Bourne Ultimatum)

on 2nd Ave & 76th, so all the film trailers were parked around the corner from us on 1st Ave. We didn't go on a mission to see Matt but others at the RMDH did and some even got photos. Dylan was fascinated by the different trailers, some marked "stunt crew" and we even saw one that said "Younger Bourne" which I assume there must be a scene in the next movie of him as a child or something.