Dylan went bowling on Tuesday night with the Ronald McDonald House. He had so much fun! Click HERE for photos and HERE to see the video! Hopefully the video works, it's my first attempt at uploading one. You too can bowl like Dylan…well try not to drop the ball into the alley like he does! The next fund raiser in Australia is "Bowl for Dylan" on Sunday 25th March at AMF Frankston bowl from 10am-4pm. For bookings call 978-96721. See flyer below…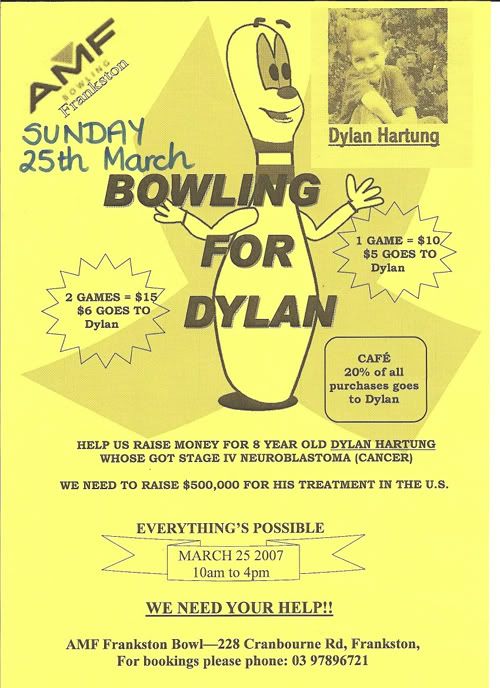 St Baldricks is on tonight and Dylan will shave Grants head! It will be a great night and Dylan is really looking forward to it. Everyone is welcome so if you want to come along, please do. It's at the Boathouse at Central Park at 4pm. St Baldricks is asking for a $0 donation for the event, dinner and drinks will be served and of course you get to see all the kids shaving the heads of those who are honoring them!
All is well medically, Dylan had all his scans and tests this week, should have results on Tuesday. He will start GM-CSF injections on Wednesday and the dose escalated 3F8 trial on Monday 26th March. The 1st cycle of Accutane will finish this Sunday, so far there have been no side effects from this.